reveel by MedSkin Solutions is a modern brand with a lot of know-how and highly effective products whose efficacy is tested by clinical studies and scientifically proven.
We can draw on more than 50 years of expertise of our company MedSkin Solutions Dr. Suwelack in regenerative medicine and professional skin care and know exactly which signals need to be sent to the highly demanding biological system of the skin in order to produce important structural skin components and reactivate the natural processes of the skin.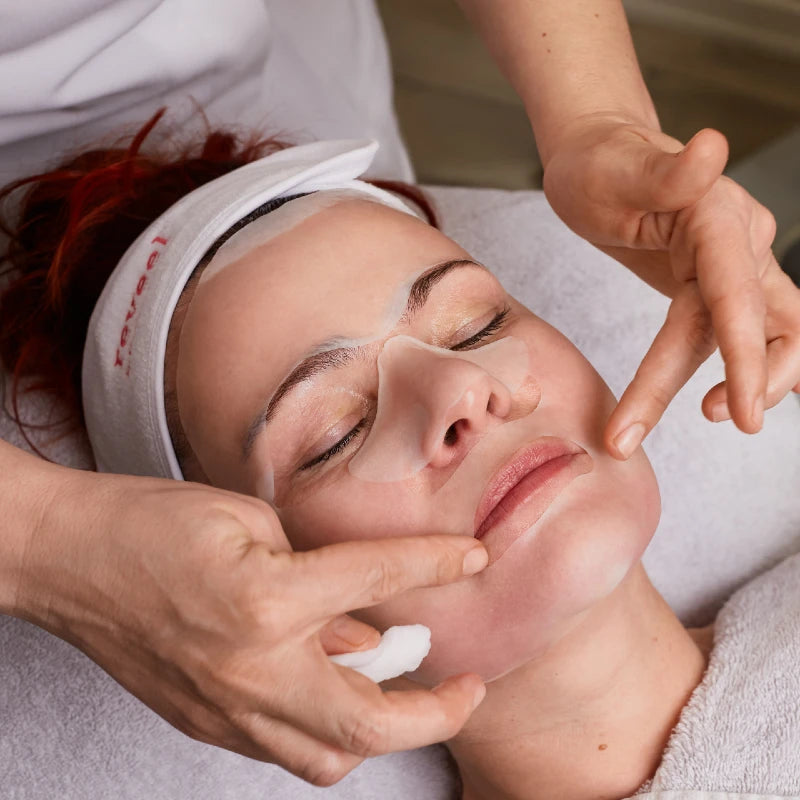 Our innovation makes you strong!
Our products reactivate the skin's natural processes or supply it with nutrients that have been lost. With the help of the right signals, for example, collagen synthesis is stimulated or the skin's own lipid production is stimulated.
Thanks to our unique and innovative technology, we are able to safely store the natural properties of the active ingredients used to provide them in their most active form and an effective concentration to the skin exactly where they are needed
Their skin care expertise is complemented by:
Sophisticated, high-quality lifestyle brand
Over 50 years of expertise in the medical and cosmetic treatment of the skin
Professional facial care for user-friendly application, both in the beauty salon and at home.
Biomaterials and active ingredients in their most active form and dosage
Innovative manufacturing technologies
Efficacy tested by clinical studies and scientifically proven
100% Made in Germany
Your free test package to get to know
Get to know our highly effective products for professional facial treatment in beauty studios & SPA's in a non-binding test package.
This introductory set includes professional mask and massage products as well as our Vitamin C Concentrate and Collagen Serum Spray, offering a perfect insight into the world of reveel and the product range.
Let the effectiveness and visible effects convince you!

With reveel you bring out the ideal skin appearance of your customers
Over time, the skin loses its ability to trigger the skin's own processes itself and the production of various skin components slows down. At the same time, the breakdown of skin components is favoured by various external and internal influences, such as UV radiation, environmental pollution or stress. When this happens, we see signs of skin ageing such as fine lines, wrinkles or pigmentation. The skin needs additional support and signals from the outside to stimulate the natural processes and functionalities again. However, it can only give the desired response to signals that it understands.

reveel by MedSkin Solutions speaks the language of the skin .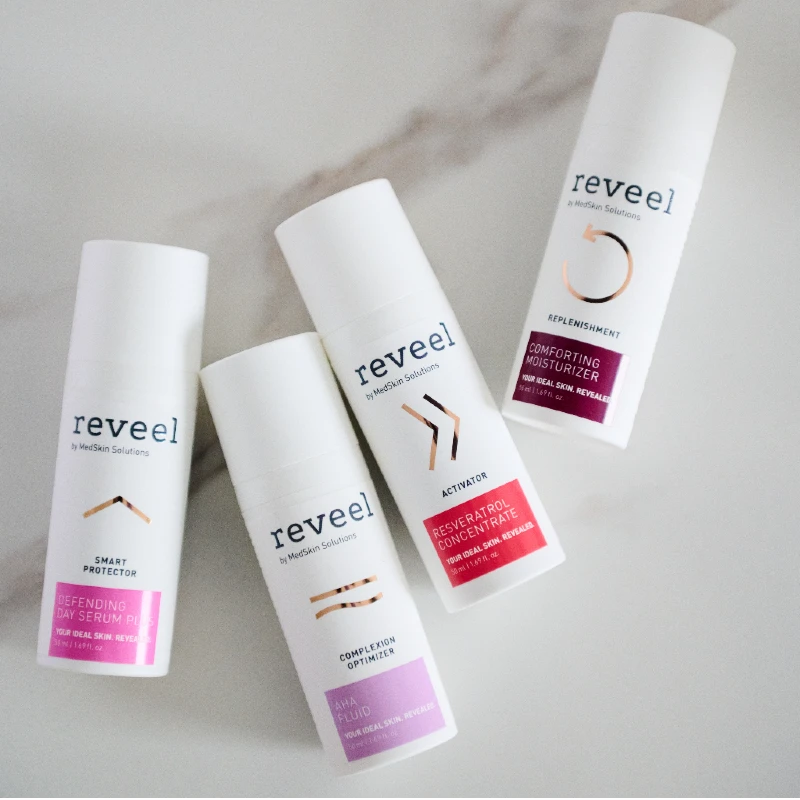 The reveel professional concept
For professional treatment in cosmetic studios and dermatologies, as well as for use at home, there are seven product lines to choose from, which can be freely combined to optimally address individual skin needs and unleash the skin's full potential.
We are looking for partners who share our passion for skin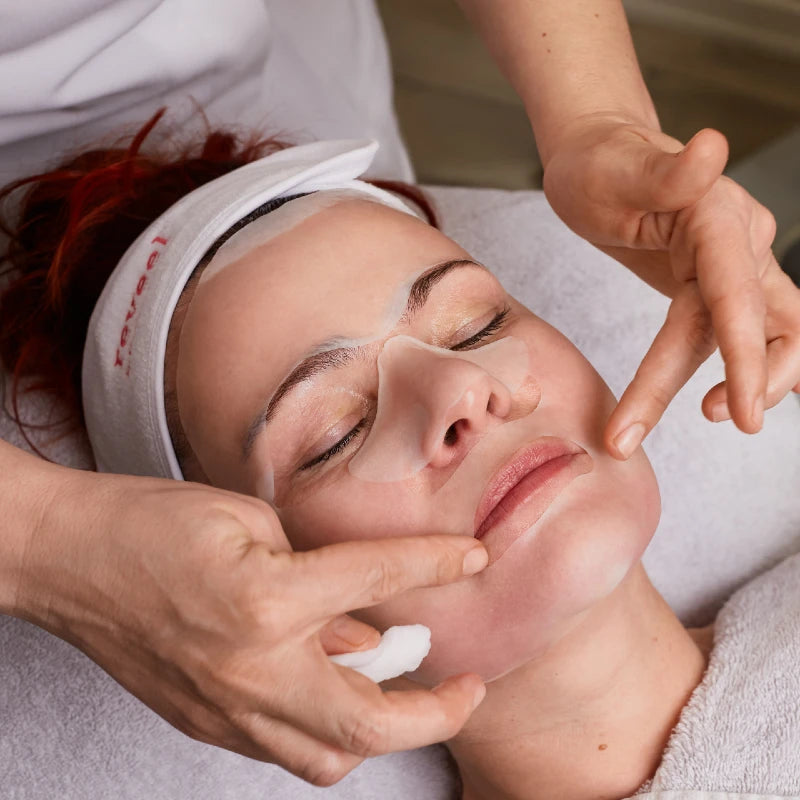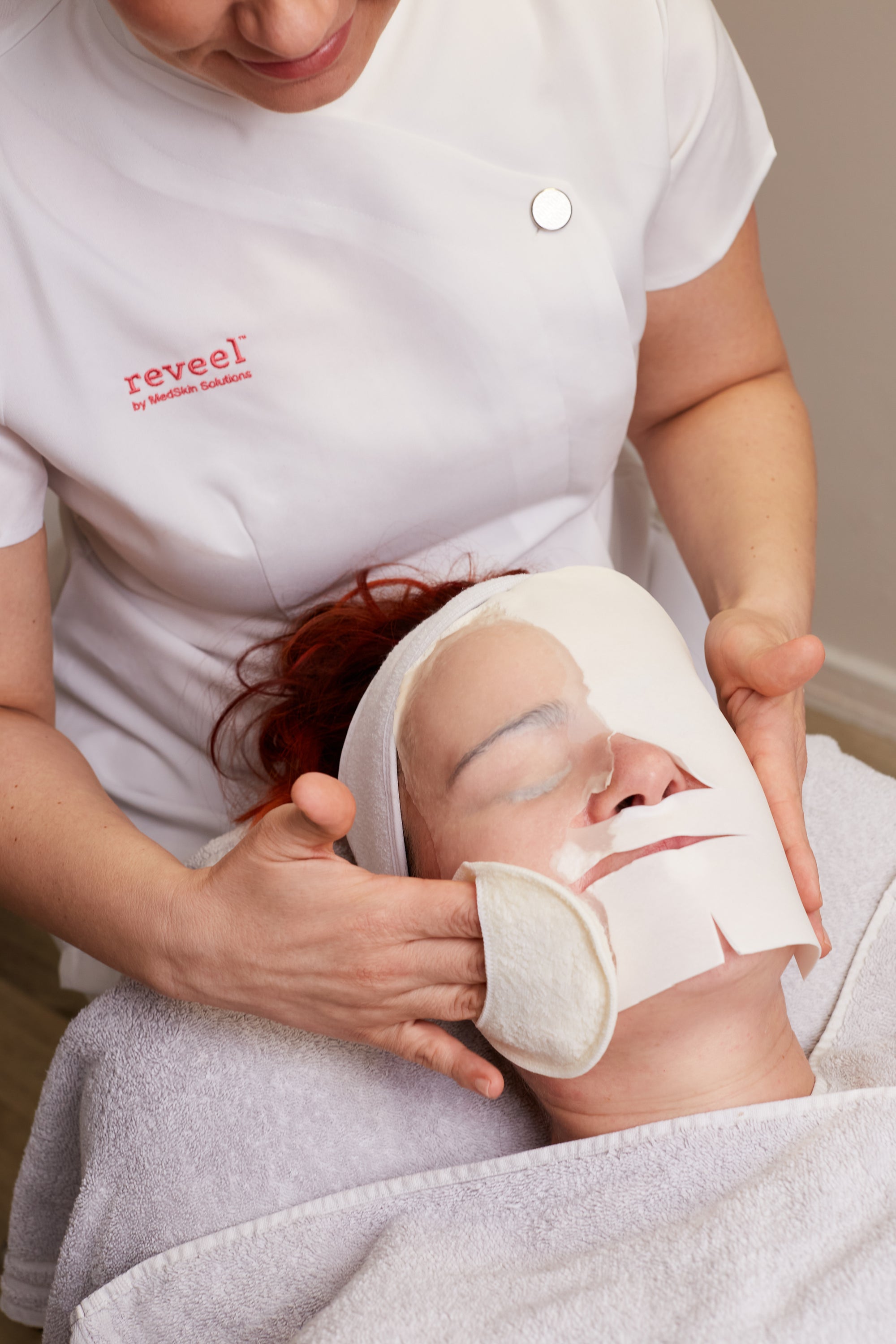 Our collagen is unique
In order for externally applied collagen to communicate with the skin cells, it must have a certain structure. The so-called "native structure": the more similar the collagen is to human collagen, the more compatible and effective it is for the skin.
All our collagen products are 97% similar to human collagen and therefore particularly effective.
Thanks to our unique technology, the Advanced CryoSafe® Method, a further development of freeze-drying, the skin benefits from the native properties of the active ingredient collagen.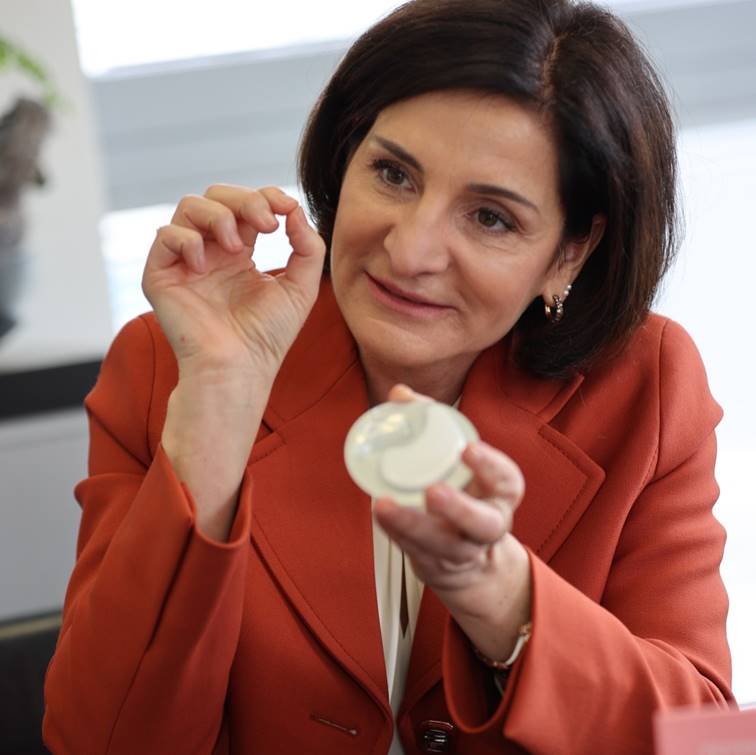 "The human body impresses me anew every day. By sending the right signals, we make it so that the skin receives this message, understands it and reacts to it in the appropriate way. The signal molecules (collagen peptides) in our collagen products move into the skin and send a signal to which the body responds by producing new collagen."

Diana Ferro, CEO

Your advantages in our reveel partner programme:
Highly effective products for professional facial treatment
Developed by skin care experts & 100% Made in Germany
Visible effects proven by clinical & scientific studies
Customer advice on the current state of science through regular webinars and expert talks, training etc.
Access to various training documents and videos, product information as well as marketing materials via reveel University
Personal contact & maximum support from small, motivated teams
Part of a successful family business
Become our Professional Partner and share your passion for skin with us!